The Nutcracker ballet is filled with holiday cheer, but no one is happy, least of all lead dancer Leah Siderova. It's bad enough when Maurice Kaminsky forces her to perform upon a shaky platform, which teeters high above the stage. It's worse when the curtain opens on the first murder victim, and the scene looks more like the end of Romeo and Juliet than a child's vision of Christmas.
The dancers were unanimous in their dislike of Maurice, and they eagerly anticipated his departure. What they didn't foresee is that he would exit in a body bag, and not on a nonstop flight to LA.
Leah doesn't want to get involved in the ensuing murder investigation, but when suspicion falls upon Tex, her dance partner and friend, she has no choice but to act. She enlists the Choreographers of Crime for help, but it's her life, her career, and her complicated romance with homicide detective Jonah Sobol that's on the line.
With opening night less than a week away, and the future of American Ballet Company hanging in the balance, can Leah save Tex in time to save the show?
Amazon Barnes & Noble Kobo Apple Books IndieBound BooksAMillion
---
Ballerina Leah Siderova belongs onstage. Not in an interrogation room at Manhattan's Twentieth Precinct. And yet, for the second time in less than a year, that's where she has a starring role. It wasn't her fault someone killed the autocratic new director of American Ballet Company. And it wasn't her job to find the killer.
In the fictional world of ballet, there's nothing like a corpse in a tiara to bring people to their feet. But broken hearts and broken bodies in real life inspire far more dire consequences.
Leah is determined to stay as far away as possible from the murder investigation. After all, if she were going to kill someone, it would have been the woman who's been relentlessly trolling her on social media. And that's where things get complicated. Because when dancers say, "ballet can be murder" they don't mean it literally.
Most of the time.
Amazon Barnes & Noble Indiebound BooksAMillion GoogleBooks
---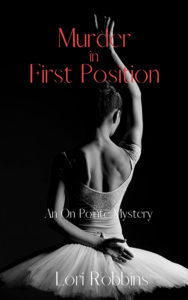 Recently released: Murder in First Position, Book 1 of the new On Pointe Mystery Series
While working on a sequel to Lesson Plan for Murder, another story took hold of me and wouldn't let go. The result is a new novel, Murder in First Position, which takes place in the world of professional ballet.
Coming soon: "Accidents Happen" a short story in the 2021 Malice Domestic Anthology, Murder Most Diabolical.
Stay tuned for more of Leah's adventures in Murder in Second Position, which will be published November, 2021
Amazon IndieBound Bookshop.org Barnes&Noble Books-A-Million GoogleBooks
---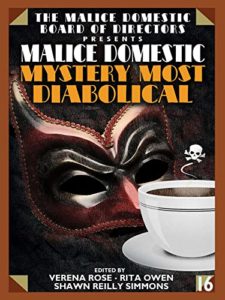 "Accidents Happen" in the anthology Mystery Most Diabolical
---
"Leading Ladies" is featured in the New York Sisters in Crime Anthology
Murder New York Style: Justice for All
In this short story, Julie and her intrepid grandmother investigate a murder, using their encyclopedic knowledge of Broadway shows to solve the crime.