\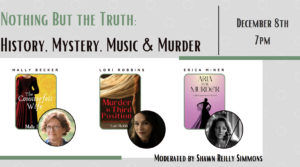 The indie bookstore Kew & Willow is hosting me, Mally Becker, and Erica Miner ,with a virtual launch party on Thursday, December 8th, from 7-8 pm, EST.
You can sign up for this special Crowd Cast event at: https://www.crowdcast.io/c/nothing-but-the-truth
I'll be discussing the newest On Pointe Mystery, Murder in Third Position. In this work, ballerina Leah Siderova risks her career, her life, and her complicated romance with homicide detective Jonah Sobol, in in her pursuit of a killer hiding in plain sight.
Mally is the Agatha nominated author of the The Turncoat's Widow and The Counterfeit Wife. Her works take place during The Revolutionary War, and feature two of George Washington's most reluctant spies.
Erica, a former violinist with The Metropolitan Opera, has set her mystery on the stage and behind the curtain of that iconic venue. She's also a noted screenwriter,  journalist, and author. Her new book, Aria for Murder, released last month.
Shawn Reilly Simmons, editor and publisher of Level Best Books, will moderate.